Dr Charlie Eggers BVSc (Hons)
Veterinarian
Originally from south of the boarder Melbourne, Charlie is an avid supporter of Carlton Football Club. His love for the Queensland climate, country and of course wife Cath has him now based in Brookfield, Queensland. Having also worked for some years as a vet in Mackay, north Queensland, he is now truly adjusted to the climate.
Charlie has a very strong interest in small animal surgery and has done further study and  courses in all things small animal surgery. He enjoys orthopeadic surgeries but give him most surgery cases and he's happy.
Charlie's favourite thing about being a vet is the ability to treat animals and see the difference it makes to their lives and their families life. In his spare time, Charlie likes watching his beloved Carlton Football Club (or most sports), doing activities outside and spending time with his wife and their daughter Rosie and Annie and their Large fur family.
Dr Catherine Toft BVSc (Hons)
Veterinarian
Cath is a self declared animal addict, loving animals of all sizes. Graduating from the University of Queensland in 2009 as a Veterinarian has fulfilled Cath's childhood dream. She is truly passionate about her job and the animals she treats.
She enjoys the variety of work that a general mixed veterinary practitioner is exposed to, but does have a particular interest in medicine cases (emergency and endocrine cases ), wounds , reproduction, ophthalmology and equine cases. Having spent nearly 5 years in mixed practice in Mackay she enjoyed the mix of animals and cases she experienced .
Brookfield is truly a family run and owned practice with Cath being Charlie's wife and previous Owners Richard and Bronwyn Toft's niece. Talk about keeping it in the family! When Catherine isn't at work she loves laughing with friends overwine and great food, going to the beach and spending time with her husband Charlie and animal loving daughters Rosie and Annie and her multiple fur family members ( too many to list )
Dr Kirsty Johnstone BVSc (Hons)
Veterinarian
Kirsty joined our team in early 2018. She is a wonderful addition to the team. She has previous experience in emergency medicine and critical care at a referral centre. She has an interest in Ultrasound/Imaging, Emergency stabilization, Medicine and Poultry. As such Kirsty has done further educational courses in Ultrasound and imaging and Poultry treatment .
Originally from South Africa, she moved with her family to Australia when young. Growing up locally, Kirsty has always loved animals big and small and owned everything from horses to turtles. Kirsty is passionate and dedicated to her job and the patients she treats. Kirsty is owned by her Golden Retriever Millie who is part of her family.
When not busy working, Kirsty loves to travel and enjoys playing sports. She enjoys playing Netball, Tennis and Horse riding. Kirsty loves chocolate sponge cake and flowers (sunflowers and lilies). Kirsty looks forwards to treating all the wonderful animals in Brookfield and around.
Dr Michelle Brown BVSc (Hons)
Veterinarian
Michelle has been with us at Brookfield vets since 2019, previously working in a busy mixed animal clinic in Jimboomba and Beaudesert. Michelle is a very kind and compassionate vet and extremely dedicated to the patients in her care and getting the best outcome for them.  Her interests are in soft tissue surgery, Equine medicine and dentals, cytology, and cardiology. Michelle has completed further education in advanced Equine Dentistry and enjoys seeing the difference it makes to the horse's comfort and quality of life after. Michelle grew up on a small farm in Caliope with lots of different animals, developing a strong love of all animals big and small. In her free time, she loves the outdoors, board games, playing sports such as football and netball and playing the guitar. Michelle and her Husband Charlie have two cheeky cats Neville and Luna (both of who she adopted through coming into the vet clinic) and a beautiful Corgi Albus. Michelle is a self-declared chocoholic.
Dr Max Ernst BVSc
Veterinarian
Max is the newest addition to the team, joining us at Brookfield Vets in 2020 . Max is fast becoming a favorite with clients and animals alike and a great addition to our team due to his depth of knowledge (we call him our walking veterinary encyclopedia ) , considerate , thorough and compassionate nature . Max enjoys complex medical cases , neurology ,imaging , clinical pathology , cytology and ruminant medicine . Max Grew up on a tiny island resort in the Caribbean for 12 years of his life and then moved to Tasmania , clearly experiencing very different climates and environments. Outside of work Max enjoys boating and fishing , camping , tennis and squash  and traveling with his partner Shannon who is also a Veterinarian .
Dr. Callie Stokes BSc BVMS MANZCVS (Veterinary Behaviour)
Veterinarian
Dr Callie works at the surgery on Tuesdays as a veterinarian surgeon and behaviour vet . Dr Callie also runs our fabulous puppy preschool on a Wednesday evening. Dr Callie graduated as a veterinarian surgeon from Murdoch University , Perth in 2004. With an interest in surgical cases and a special interest in animal behaviour she has advanced her skills in this field. Dr Callie is now a member of the Australian Veterinary association . Callie inspiration to becoming a vet and interest in animal behavior came from her upbringing on the family farm in rural Victoria . Callie runs her own house call veterinarian behaviour business – ZEN VET .  Callie's personal interests include running , yoga , bush walking , drinking red wine and eating dark chocolate. This inspiring and busy woman also has two gorgeous young children Harper and Bodhi and lives locally in UpperBrookfield with them , husband Adam and dog Summer ( another inspiration for further training in veterinary Behaviour).
Dr Zoe Smyth BVSc (Hons)
Veterinarian
Zoe graduated from the University of Queensland in 2010 and started here at Brookfield Vet in early 2017, as a mixed veterinarian. She is a country girl at heart, hailing from a remote sheep station south east of Cunnamulla. She has a love of all animals but particularly cows, and is experienced in production animal medicine from her days as a vet at Pittsworth. Her other interests are Soft tissue Surgery , dermatology and parasitology , Dentistry and anesthetic and pain management . She has since moved to the western suburbs of Brisbane, with husband Phill and gorgeous daughter Phoebe. They have a dog named  Maxie and a cat named Merv, who rules their house.
Zoe has wanted to be a vet from a young age. As a child Zoe would set her cubby house up as a vet clinic, and would 'treat' her chooks and dogs. Zoe loves horse riding, running, tennis and listening to acoustic music. Zoe is passionate about sourcing and supporting locally grown and owned produce she currently manages Free Range Family coop – ethically sourced and produced animal products . Her plan is to hopefully work part time as a vet whilst also operating an online business to promote primary producers.
Becky Manners
Head Surgical Nurse (Cert 4 Qualified)
Becky joined the team in 2015, and prior to this she worked at the Moggill Pet Motel. She has always had a strong love and passion for animals. Becky's beautiful cat Jaspa has been coming to the clinic for many years.
Becky has completed her Certificate IV in Vet Nursing and ISFM Certificate in Feline Nursing and has grown into a remarkable head nurse. She is phenomenal at her job and she treats all patients as if they were her own . She is a hard working and compassionate member of the team and makes sure all the animals get extra special love, and attention while staying at the clinic.
Outside of work Becky loves most sporting activities, whether it be watching or participating, and lives a very active and healthy life style. She also loves socialising with friends and family, eating yummy Chinese food and off course adores Jaspa. She is also owned by 2 Border collies lovable Blue and her very lucky and adorable rescue Riley.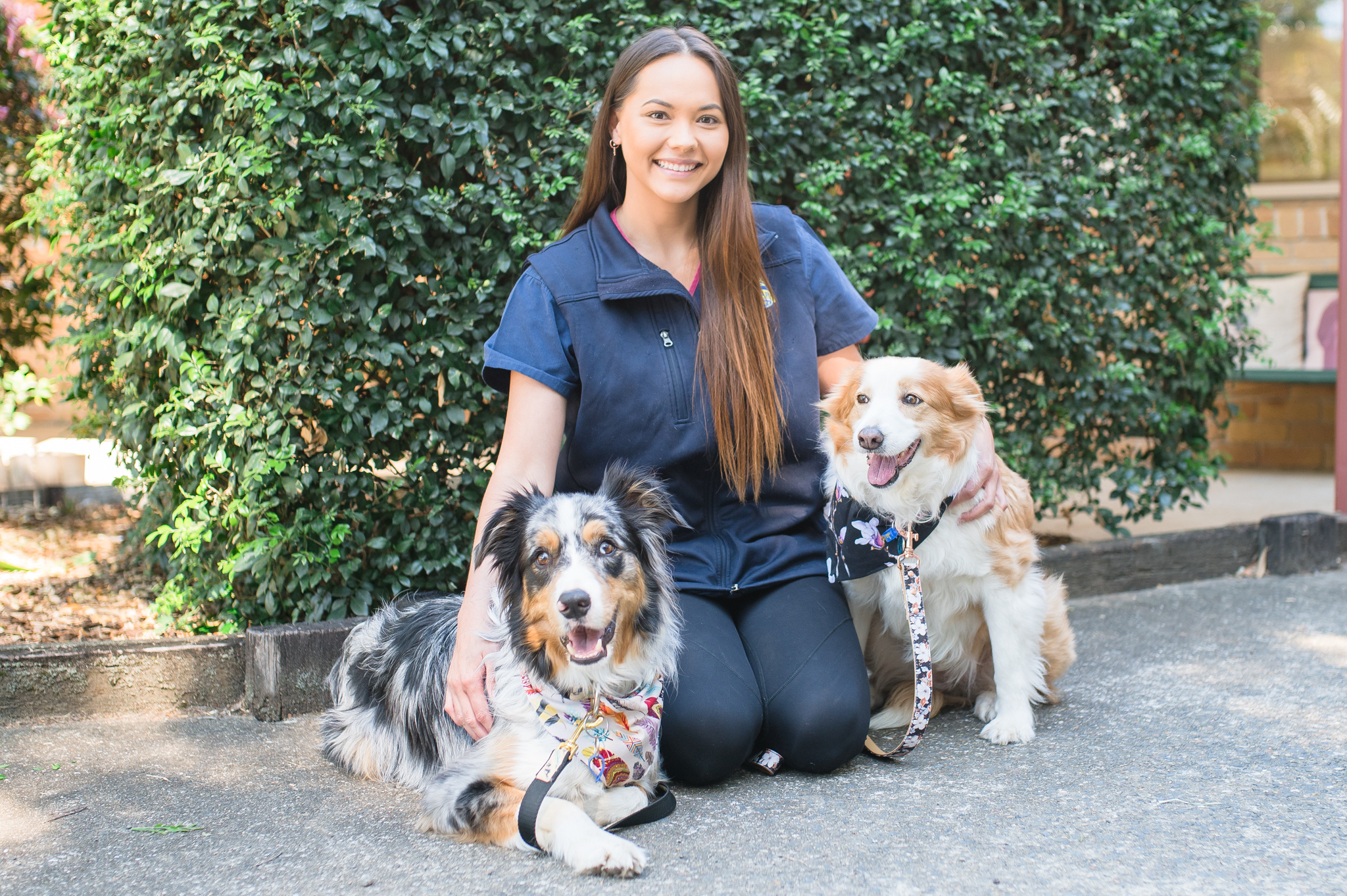 Carly Jones
Veterinary Nurse
Carly literally grew up in a vet clinic, so it's in her blood. Hailing from Rockhampton where her Dad was the local vet. She lived above the vet clinic, and remembers spending many nights helping her Dad with caesareans and surgeries. She studied fine arts at university, until the veterinary nursing urge became too much and she went to work for her father's vet surgery.
She moved to Brisbane to follow her husband's music career in 2014. Thankfully she came and joined our veterinary surgery team. She is a extremely dedicated and hard working nurse. She brings an artistic flare to Brookfield Vet surgery and is responsible for all the beautiful bandage art and posters around the clinic.
In her spare time she loves listening to all different genres of music with husband Michael, watching sci- fi, watching the Lions play and spending as much time as possible with her older children Ruby and Coen and fur children staffy x Labrador Benedict(Benny) and cheeky new addition a little Jack Russel named Franklin (Frankie )
Melissa Park
Nurse
Melissa came to Brookfield Vet surgery in 2014. She was drawn to Brookfield Vet surgery after nursing with Charlie in Mackay. They call themselves the surgical A Team, and have a great working relationship. Actually Mel gets on very well with everyone due to her bubbly and easy going nature.
Mel has been veterinary nursing for over 10 years, and is wonderful and very skilled at what she does. Mel has only a few subjects left until she graduates with her cert IV in veterinary nursing.
Mel and her husband Andrew have two beautiful children Ellie and Angus who keep her very busy outside of work. Mel also loves travelling and socializing with friends and family.  In her down time Mel  loves nothing more than cuddling her beloved British short hair Cat Warren and cheeky rescue from  devoted to dachshund Duggie.
Katherine Krzysko
Veterinary Technician / Nurse (BScAppSc)
Kat graduated from the University of Queensland in 2014 with a bachelor of applied science in Veterinary Technology. She has nursed in multiple busy vet clinics in Brisbane and surrounds including a busy 24 hour emergency clinic .  Gaining much experience in all aspect of veterinary nursing . She joined our team in 2020 .  She enjoys educating clients on responsible pet ownership at reception and providing loving nursing care to our surgical and hospital patients. She also is our predominate nurse running our wonderful puppy preschool program and is enthusiastic about teaching new pet owners and of course getting to cuddle and meet the new puppies.  Kat is positive , enthusiastic and kind .
Kat loves all kinds of music including singing and playing music ( piano and Guitar). She loves writing short stories and playing netball and basketball . Kat and her partner Matt have recently purchased a house and are looking forward to adding to a fur family member in the not to distant future.
Leila Guymer
Vet Nurse, BScAppSc Animal Production
Leila Joined our team in 2018 . She is an exceptional vet nurse . she is a qualified cert 4 nurse and has nursed in many different veterinary clinics in Mackay , Toowoomba , Beaudesert and the Gold Coast . She is a dedicated and hard working veterinary nurse and a easy going team member who we all love .
Leila has a very interesting work history , she is a qualified police officer and worked as a police officer before beginning  veterinary nursing. She recently graduated as a human nurse and also works part time as a human nurse in a GP clinic.  She has such a passion for life and we are so lucky she has a strong passion for animals and she works at Brookfield vet surgery 3 days a week .
Leila and her husband Keaton have a happy young son Finn and multiple fur family members Jaffa and Skittle and JB. Leila is an inspiring woman and in her limited spare time she enjoys hiking , swimming , baking ,horse riding ,reading and listening to music.
Elizabeth Giglio
Practice Manager (BSc, MSc)
Elizabeth is our international nurse coming all the way from New York and brings a wealth of knowledge. She is a bright, caring, compassionate, and empathetic animal lover.
Animals have always been a passion and big part of Liz's life. When in New York, she worked at an animal shelter for many years. She has lived in Townsville where she worked as a pet sitter and dog walker and worked as a Veterinary Nurse in Launceston, Tasmania, for a few years after that. She studied a Bachelor of Science in Conservation Biology and a Master's degree in Tropical Ecology and Conservation.
Luckily for us she made the move to Brisbane. Even Liz's family are animal advocates with both of her sisters back in New York working at Vet Surgeries. In her spare time Liz enjoys weight lifting, hiking, watching movies and listening to classic and alternate rock. Interestingly Liz also loves entomology (the study of insects). Elizabeth has two beautiful and cheeky cats, Luna and M'lady.
Mikaela Gourley
Kennel Hand / Trainee Vet Nurse
Mikaela joined our team as a kennel hand in 2020 and has recently completed her cert 2 in animal studies and now commenced her cert 4 in veterinary nursing. She is a passionate , kind, caring and hard working member of our team. She is always smiling and adores animals and makes sure their stay with us is the best it can be and that they are comfortable and clean. She may look familiar as she also works at the Brookfield produce on weekends and has been there since 2015.
She loves all animals but particularly pigs and her pet cattle dog.  She also use to swim professionally and loves playing Netball and going to festivals and concerts .She is a strong young woman and her outlook on life is truly inspiring .
Anna Versace
Kennel Hand
Anna Joined our Team in 2021 as a kennel hand. she has completed her cert 2 in animal nursing and is currently studying her cert 4 in animal nursing . Her family animals have been coming to the clinic for many years . she is an absolute animal lover and she adores her dog Toby . We are lucky to have her join our team and you may meet her for a chat while she is giving your dog a pamper in the hydrobath.
Lauren Richardson
Kennel Hand
Lauren Joined our team as a kennel hand in 2019 , while at school . Originally from California she now lives locally with her family. She is currently studying human nursing at university. She is very gentle and kind . She enjoys being part of our team and caring for your animals especially hydro bathing them .
Madi Ryan
Madi Ryan
Madi joined our team in 2019 while in year 10 . She is a hard working animal lover and she makes sure your pets are walked , clean and well cared for while in hospital with us. She is planning to stay in the animal industry when she finishes school.
Imogen Bradshaw
Kennel Hand
Imogen joined the team in 2018 as a kennel hand while at school . She is dedicated and hard working and caring towards animals and other staff. She has grown up in Brookfield and her family animals have been coming to the clinic for many years. She hopes to study to become a veterinarian in the future.
Sanna Erichsen
Kennel Hand
Sanna Joined our team in 2021 , as a kennel hand.She is currently studying animal science / zoology at the university of Queensland. She also works at the Pet chalet in brookfield looking after animals there as well. She is an animal lover and makes sure animal have a clean and comfortable stay with us .
Winnie Eggers
Clinic Dog
Winnie was born at the surgery on the 21st September 2015 at midnight. Her mum, Poppy, needed a late night emergency Caesarean which was performed at Brookfield Veterinary Surgery. She came into the clinic a few times after that and Cath and Charlie fell in love with her. She soon became part of their fur family.
She works at the clinic on Mondays and Wednesday. Her main roles are relaxing and befriending the patients that are in hospital. She also loves greeting clients and animals when they come to the clinic. She brings a very bubbly, playful and energetic energy to the clinic.
She loves nothing more than making people laugh, cuddles and pats and playing with other dogs. In her time away from work she loves resting, chewing and chasing toys, playing with her other fur family members, visiting local coffee shops for weekend brunch and watching TV, particularly Bondi Vet.
Mimi
Clinic Cat/Manager/Public Relations Officer
Mimi came to Brookfield Veterinary Surgery mid-2017, with roughly four years' experience in public relations, human management and smooching.
Mimi has been a great asset to our team, keeping a close eye on quality control of clinic treats, pet toys and scratching posts. When Mimi isn't busy checking the calibre of the clinic toys she is often found at the front desk greeting clients as they come in. Mimi is a social girl and likes to make as many new friends as possible.
The life of a Clinic Cat/Manager/Public Relations officer is extremely busy, as you can imagine, with many important jobs such as, licking one's self, sleeping, rubbing one's self on other members of staff and squeezing into small boxes.
Among Mimi's many duties she also types more than 100 words per minute! (with a very loose definition of 'word'). With that in mind we will leave you with Mimi's own prose.
'jadgsh ;wdeufch cwohw or;yg8tt 5utgp4' q'  – Mimi